Breathing new life into St Andrew's Blubberhouses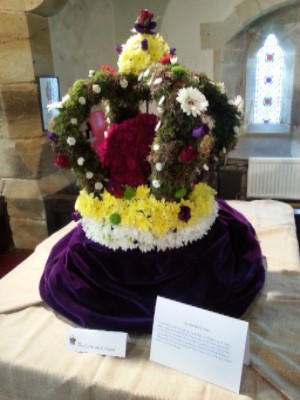 In 2015 the future of St Andrew's Blubberhouses was in doubt. Heavy expenditure on the roof was necessary. But at a public meeting in September 2015, there was a positive show of support from local people for keeping the church open.
The 'Friends of Blubberhouses Church' is a group dedicated to supporting the church by raising funds to allow the preservation and improvements to go ahead. And by arranging worship and other events the group is getting the community together to uphold the traditions of the church in Blubberhouses.
Latest News:
Jump to the latest Minutes of the Friends

Plans for a kitchen and WC have been received and discussions with the architect are taking place. There's more information in the November minutes.

St Andrew's Church was featured in last year's NiddArt festival on Aug 19 and 20 and Aug 26,27,and 28. Various artists' work was on display in the church.

New Roof
Work on the new roof has finished. The next phase will be work to conserve the windows.

Flower Festival
A most successful Flower Festival was held in Blubberhouses Church in 2016 raised over £1,500 for the renovations. The Photo Gallery has images of the wonderful arrangements.

Minutes of the meetings of Friends of Blubberhouses Church:
Jan 16 2020
Sept 26 2019
Mar 7th 2019
Dec 6th 2018
Nov 1st 2018
Sept 6th 2018
Jun 7th 2018
Would you like to learn more about the Friends?
Can you give help to this new, vibrant group?
Then please Contact Us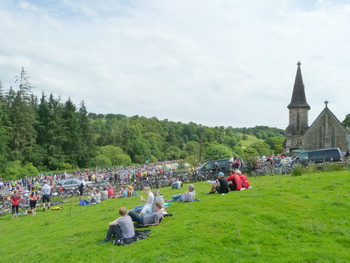 Blubberhouses watches le Tour - the place to be for 'The Grand Depart' July 2014